NOTE: If you find the steps below tedious; You can reach out to us via email or place a call. Make your payment to the bank account provided via transfer and we will request some form details. Our team will handle all of that once payment is confirmed. Your overall experience is important to us.
TO PURCHASE ONLINE:
First, click this link – The Attendance/Ticket Page
Kindly read the ticket types. There are three categories – Student Entry, Enterprise Entry, and Virtual Attendance.
STEP 1: ADDING THE EVENT TO YOUR PERSONAL CALENDAR
There are two buttons named "Google Calendar" and "Ical Export". The former would add the event to your Google calendar for a proper follow-up. The latter downloads the event and you can open it with Microsoft Outlook.

STEP 2: MAKING A TICKET SELECTION

There are three categories. Ensure you read carefully the category that applies to you.
Each selection contains the following:
Ticket Type
Ticket Description
Ticket Fee
Number of seats.
There is a zero (0) by default in between two black buttons with a "-" (minus) and "+" (plus). The plus allow you to increase the number of tickets and the minus reduces the number. If you would like to book one seat, then tap the "+" once. The zero (0) digit will indicate this.
This will also reflect in the Price of the ticket to be processed.
BOOKING MORE THAN ONE SEAT

You can book more than one seat across any ticket type or category. For example, You can buy tickets for your children (Student Entry), For yourself/staff/colleague at work (Enterprise Entry) and same time, an extra ticket for a friend outside of your location to partake of the event remotely (Virtual Attendance).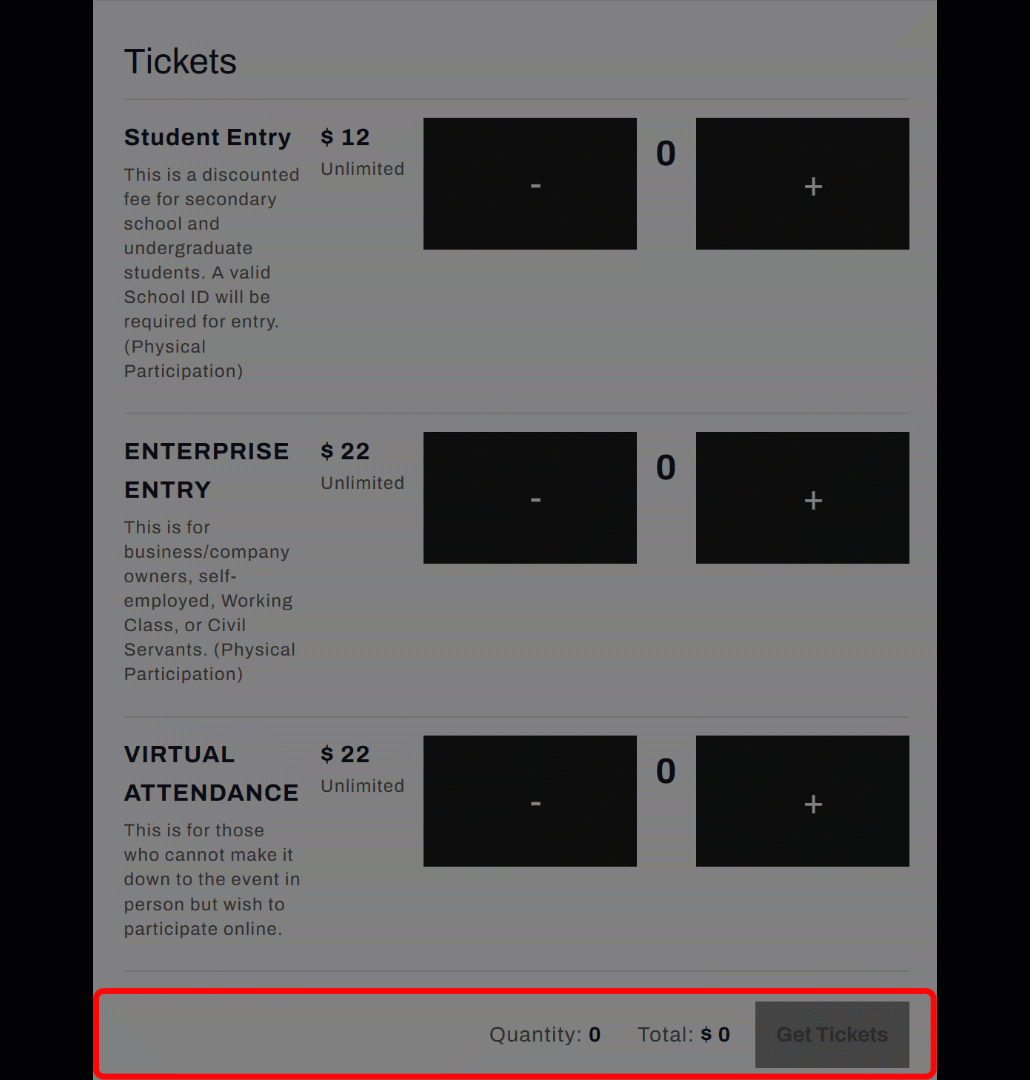 STEP 3: PROCEED TO CART

After selecting the number of tickets on a single or multiple category, click on "Get Tickets". You will proceed to a cart where you will see a sub total. If you like to change your mind, click on the "x" button beside the items to remove them from your cart. You can also increase or reduce the number of tickets booked and click on "Proceed to checkout" when done.
Follow the image below.
You can also remove all items in your cart then click on "Return to Shop" to repeat STEP 1 & 2.
STEP 4: AT CHECKOUT

Fill the form for the corresponding ticket type.
NOTE: If you are buying tickets across ticket types, you may have to fill the forms individually.
Proceed to click on "Save & Checkout".
STEP 4: MAKE PAYMENT

Our platform is secured and you need not be scared making payment online. The next page would show you the payment platform.
After payment confirmation, you will receive emails. These emails are  your purchase information, your ticket information (containing your ID and QR code) and a thank you email as well. If you do not see these emails in your INBOX, please refer to your SPAM folder. Ensure to click on "Not a spam" so the emails will show in your inbox subsequently.