Join the dynamic Tech Expo Africa (TEA) team by volunteering for our upcoming event and becoming an integral part of the broader TEA community. We are looking for passionate and committed individuals who are willing to make a valuable contribution to the success of Tech Expo Africa.
To apply, kindly click here and fill out the volunteer form. Take a moment to review the various roles available to gain clarity and determine where your skills and interests align with our needs.
Ushering: Ushers are responsible for directing attendees, checking tickets, and ensuring that the event runs smoothly. You are often the first point of contact for attendees and are essential to creating a positive experience for guests.
Content Writing: Content writers are responsible for creating written materials such as blog posts, social media posts, and marketing materials. Your excellent writing and communication skills are needed to produce high-quality content that engages and informs the target audience.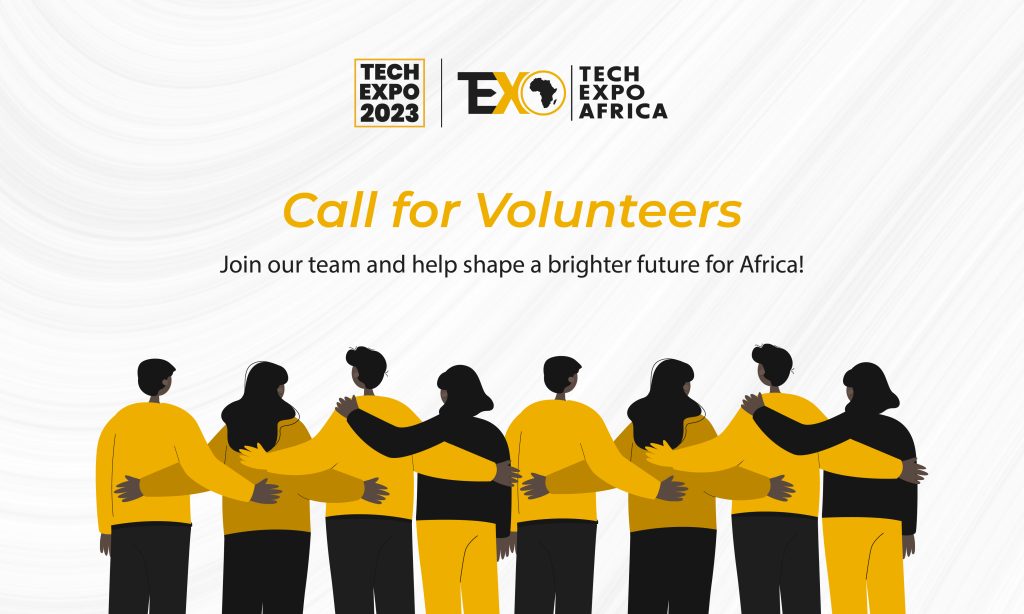 Voice-Over Artist: Voice-over artists provide voice recordings for various media, such as campaigns, Videos, Speaker Bios, etc. You must have excellent speaking skills, a clear and articulate voice, and the ability to convey emotions and character through your voice.
Audio/Video Editors: Audio or video editors work on post-production tasks such as sound mixing, color grading, and visual effects. You will be responsible for converting the audio from the VOs to video. You must have technical skills in software such as Adobe Premiere Pro, Adobe Audition, After Effects, or similar software.
Social Media Handler: Social media handlers are responsible for managing and updating the organization's social media accounts, creating and scheduling posts, and engaging with the audience. They must have good communication skills, a creative eye for design and content, and a solid understanding of social media platforms.
Photographer: Your main responsibilities will include capturing shots of BTS (behind the scenes), speakers, attendees, and key moments of the event, and creating an impressive collection of images that can be used for promotional materials and documentation.
Videographer: You are responsible for capturing high-quality video footage of the event, including speeches, presentations, and interviews with attendees. You must have experience in handling cameras and equipment and be able to work well in a fast-paced environment. Videographers work closely with the video editing team to ensure that the final product is of the highest quality.
Graphics Design: Graphic designers are responsible for creating visual materials such as posters, banners, and other promotional materials. You must be proficient in using software such as Adobe Photoshop and Illustrator.
Event Branding: Event branding involves creating a unique identity for the event, including visual themes, Event coordination, event producers, stage management concepts, and the overall aesthetic of the event. Event branding volunteers must have a good eye for design and be able to create a cohesive and memorable brand for the event.
Website Management (WordPress): Volunteers who manage the organization's website must have technical skills in website development and design, as well as proficiency in WordPress. You are responsible for maintaining the website, creating and updating content, and ensuring that the website is user-friendly and accessible.
Welfare: Volunteers in this role are responsible for ensuring that attendees/guests have a positive and enjoyable experience at the event. You provide assistance to attendees who need help or have questions, ensure that attendees are comfortable, and have access to amenities such as water, food, and rest areas. In some instances, Welfare volunteers may also provide first aid or medical assistance if necessary.
Front Desk and Registration: volunteers in this role will be responsible for all the activities pertaining to the attendee registration, including ensuring a seamless attendees' check-in process into the event, and the management and reporting of the attendee's registration data during and after the event.
Red Carpet Host(s): You are responsible for interviewing and engaging with guests (speakers, Special invites, Volunteers, and attendees) as they arrive at the event. You may also assist with crowd control and ensuring that the red carpet area remains organized and flowing smoothly. To qualify for this role, you are expected to have excellent communication and interpersonal skills, be confident and articulate, and have a good understanding of the event and the guests in attendance.
Logistics (Strictly for those in Ibadan, Nigeria): Volunteers in logistics assist with planning and executing the event, including tasks such as equipment setup, transportation, and vendor coordination. You must be detail-oriented and able to work efficiently in a fast-paced environment.
Protocol Team: The protocol team ensures that the event runs smoothly and that all attendees, speakers, and VIPs are properly taken care of. You handle tasks such as seating arrangements, guest introductions, and protocol guidelines. You will be working closely with the event branding and ushering team.
IT Support: Volunteers in IT support are responsible for maintaining the organization's technology infrastructure and assisting with technical issues during the event. You will also be handling online streams and managing virtual events on various platforms such as Zoom, Telegram, Google Meet, etc. You must have technical skills in hardware and software troubleshooting.
CLICK HERE TO REGISTER