As many rivers snake towards bigger oceans, so have our many efforts drawn you to this point: Registering for the Tech Expo Africa Conference 2022!!! 🎉🎉🎉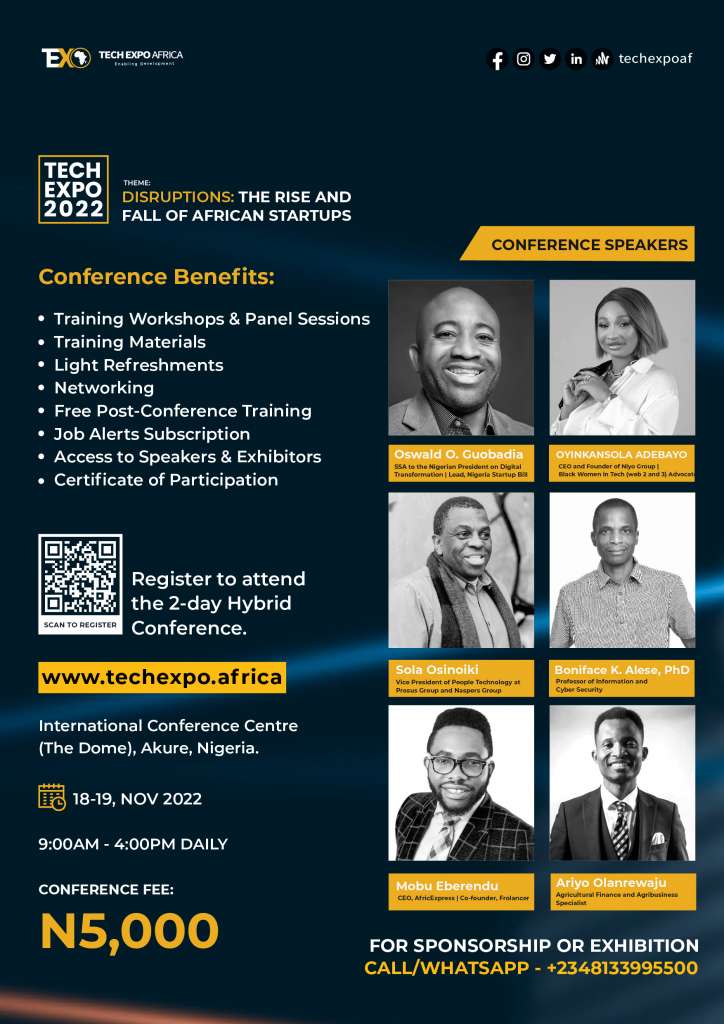 We've worked tirelessly to bring this year's conference to You and we are glad you are willing to take the final bold step to join our learning journey to the house of Madame Disruptions – a fiery dragon lady whose roar is definitely louder than her fire breath.
This is not a Dungeons and Dragons synopsis so let's jump right into the easy peasy steps you came for. Here's our simple, straightforward guide on how to navigate the conference registration process before a successful event day.
1. Visit https://techexpo.africa/events/tea2022/
Our registration page has been optimized to a favourable experience you can enjoy for a seamless confirmation of your attendance or that of your team. This first step ensures that You take priority in our planning efforts and that neither you nor your team are left behind in our catering efforts.
2. Read the About section and other conference details
On the page, you can find details about our Speakers, Faculty, Venue and important updates to give you a WOW conference experience. This way you can tailor your experience and determine what workshops and panel sessions are best suited to your needs ahead of November 18 & 19, 2022.
3. Scroll to the ticket booking section
In the booking session, you can choose to either participate online or join us physically in the whimsical rock-haven city of Akure, Nigeria physically. The difference is real-time access to the high-flying Startups and various exhibitors intent on making our stimulating Expo floor even more robust.
4. Enter the number of tickets for participants – Virtual is Free, Onsite is Paid
Indicating the number of tickets you would be needing is your first order of business in the ticket booking section. If you would be participating virtually, your ticket costs no charge at all. If you would be attending onsite, it will cost you NGN5,000 only. As has been popular demand, allowance is made for companies and teams that would like to register multiple persons.
We at Tech Expo Africa always encourage the uniform growth of many and where we see actions geared towards the development of the collective, we are always oh so EXCITED 😁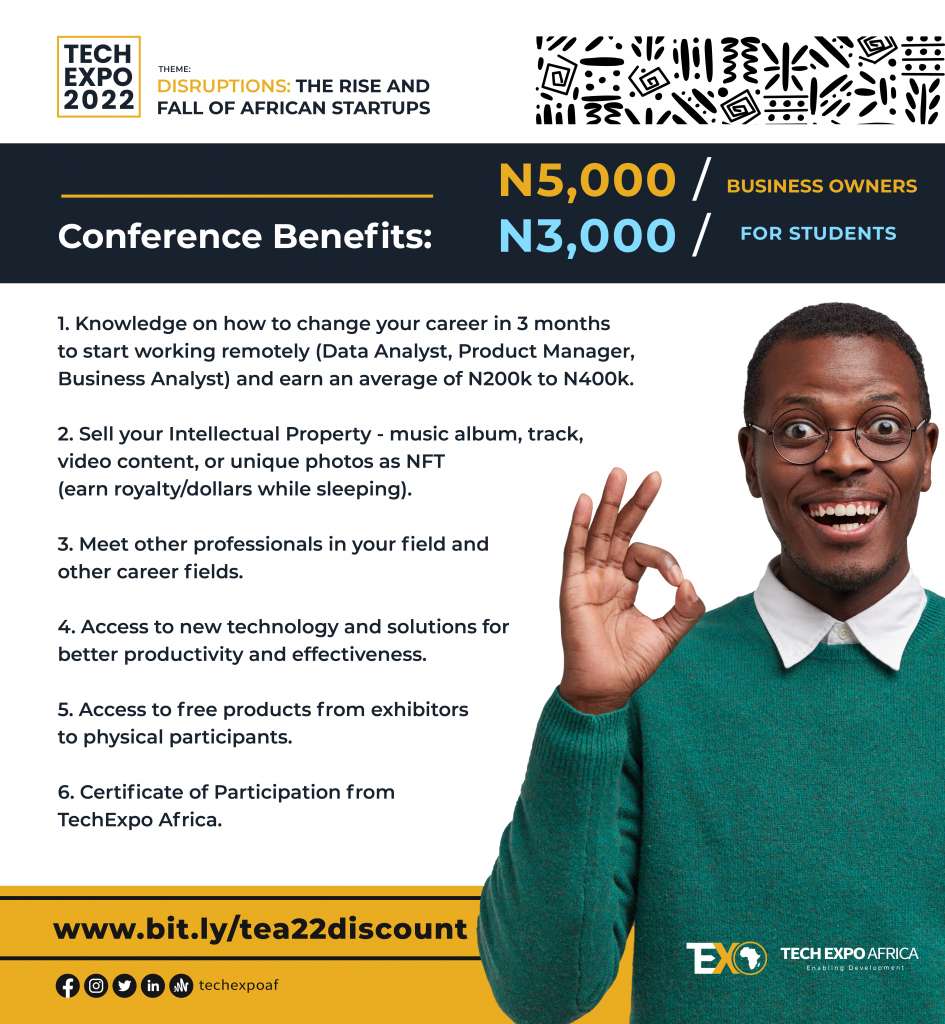 5. Fill out the form
Having filled out your requested number of tickets, the next step is to fill in your details. If you filled tickets for more than 1 person, or for both options of participation, have no fear 🦾. Your personal details are exactly what we need as the key registrar of your Team. Our Admin team would contact you for more comprehensive details on the owners of the additional tickets you purchase.
6. Proceed to checkout
Next, your registration will be totalled and you can confirm by clicking on the checkout button. This will lead you to the checkout page where you can make payment using your debit card, credit card or transfer from your bank account (there is a page for that).
The Account Details you can expect to see on the site are as below:
Account Name: Shokenny Solutions Conference Account
Account number: 0494811916
Bank: Guaranty Trust Bank
7. Verify the booking link sent to your email
Finally, *ring ring* You've got mail! 📧
Go to your email inbox of the address you filled in the booking section to verify the booking link sent to you. If you cannot find the email from Tech Expo Africa, please visit the 'Promotions' or 'Updates' tabs. If still not found, do go into your 'Spam' folder and set Tech Expo Africa to your Primary inbox.
Voila!
Your ticket will be sent to your email (containing the ticket ID, your name, ticket type and QR code) looking like this 👇🏾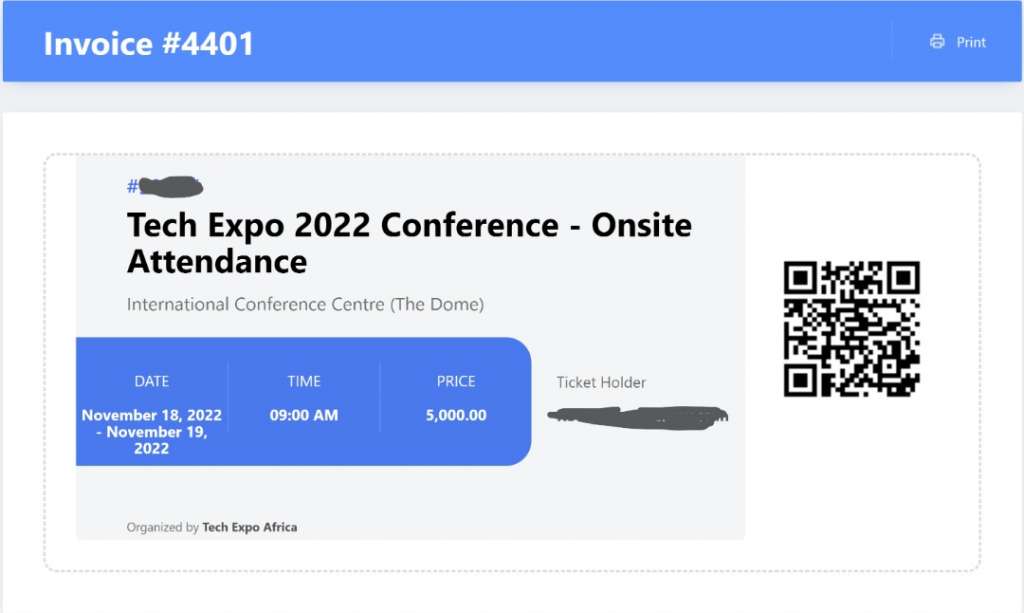 The registration portal is now OPEN.
For an explainer video on how to Register, press Play below.